Post by agentf on Aug 10, 2016 10:37:55 GMT -5
They should first and foremost send ships to those shores to avoid tragedies. Any number of converted cargo ships in international waters that any rich expat Syrian could send...I'm always amazed people don't do this. Then set up whatever, clinics, schools and foreign affairs/consular services offices to shelter and guide these people, not rob their dignity and turn them into wild animals having to fend for themselves - what kind of civilized world are we!?!?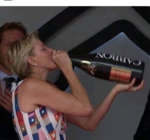 THAT will never happen. When I was visiting there years ago, i would see anyone looking "too foreign" pulled off the bus and driven over the border to France. I'm sure it's worse now and maybe just trying to avoid the terrorists.
Of course, if you're from an oil rich country and bringing in millions, no problem.
How about the Red Cross exploring the possibility of building "safe-zones" in Syria or in other troubled countries to keep them in their environment to worship and work?
But no, dirty ASSad, ruler of Syria and his evil Brit wife were not stopped by anyone and allowed to poison their own people. No one could crack a deal for them to leave and go into exile?
The current "leader" of the USA (most likely born a Muslim) and it's former Sec. of State Clinton (whose personal assistant is Huma Abedin who is Islamic), did nothing to help this and only exasperated the situation to the demise of the refugees. In fact, Clinton who is "running for President" wants to increase the import of refugees (and allow them to vote for her immediately) while Trump the other candidate demands proper vetting or a temporary ban (which is constantly being confused for racism).
Monaco will NEVER allow any families there for sure. I kinda don't blame them but they should really press for "safe-zones" to keep the immigrants from leaving their mother countries.