Post by agentf on Oct 24, 2019 14:23:51 GMT -5
😄 thank you for thinking I had anything done! Not yet.
I endure minimal breathing capacity because of a nose too often in the way of obstacles but since childhood, I hold the hope of finding the right ENT/plastic surgeon to give me back the nose I was born with. It came close once, with a Dr Holland(?) in T.O. Alas, he also wanted to make my nose smaller. It was a toss between him and a Montreal surgeon, the latter demured at the last minute from touching my nose. I suspect a third person unconvinced him. Why? Either to remain identifiable or perhaps out of sentimental feeling? He was all for doing my boobs though. I demured. My gap front teeth grew naturally closer and my mother always promised I would grow into my nose. Now that I've grown rather into a constant target, no doubt plastic surgery will one day be necessary but I'll wait so I don't confuse my aged mom. My neck has suffered the most recently, from drastic weight loss. And I'd love Dr Pimple Popper (I forget her real name) to tackle my ear lobes actually. I hate my earlobes. But before anything for me, I pray my dog meets a specialist surgeon to make his last months more comfortable by removing his carcinoma and melanoma. I really digressed now.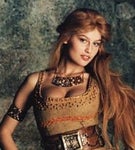 It's very clear thar you don't like Carla Bruni. Have you ever had personal contact with her in real life or maybe with her plastic surgeon?
Bonaparte was a recognized genius, like him or not. He drew entire battle plans at Collège de Brienne at a young age. Collège is high school level in France unlike in the U.S. or Canada.
He was one among few, like Alexander the Great, Cyrus, and other great conquerors.
The Grimaldi family have no direct links whatsoever with either Bonaparte or Ramolino families.
If Sainte Dévote (Divota in Corsican language) had not wrecked-landed her boat in Monaco (another legend) there would have been no Principality of Monaco.